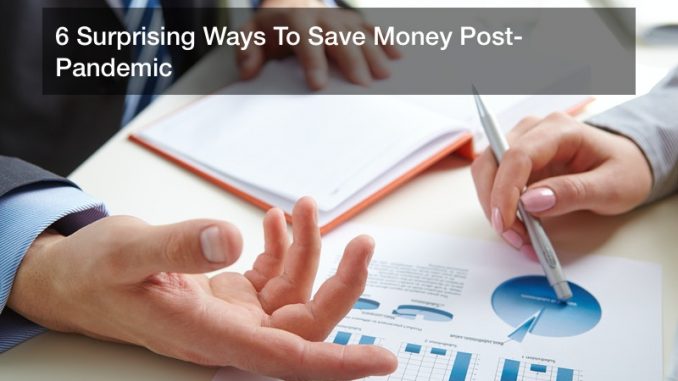 For a lot of Americans right now, saving money is of the utmost importance — yet, it may also seem impossible. The COVID-19 pandemic put millions of Americans out of work and furthermore forced many of those who did keep their jobs to reduce their hours or perhaps take a pay cut. The pandemic was unexpected and advanced quickly, which means that the many people that were left unemployed did not have time to save money in advance, with a lot of them already living paycheck to paycheck.
In 2019, 25% of people were sometimes or always worried about whether their household incomes would cover all of their expenses. The fact is that, ideally, we should not only be covering our expenses but also putting some extra money away in our savings accounts. Some have found that they've been able to stay afloat during the pandemic, but they also want to prepare for the future. After all, being able to save will ensure that if a similar crisis hits in the future or if there's a second wave, you will have something ready in your bank account.
But how do you go about saving money in the first place? Countless Americans are trying some surprising ways to save money that they normally wouldn't consider, but not all of these strategies will be effective.
One of the most famous, or perhaps notorious, means through which people save money is through do-it-yourself (or "DIY") projects. It's easy to assume that you're saving money by choosing DIY. But in fact, many people find themselves struggling with saving money after attempting to handle their projects, whether they involve physical labor or are limited to handling more theoretical matters, on their own. The problem is that if you aren't an expert, you can easily make a mistake. In the long term, your small mistake may very well grow to cause you to a lot of trouble. The last thing you want is to lose even more money over a shoddy job that you could have easily avoided by hiring an expert in the first place.
With that being said, let's look into some of the most surprising ways to save money through working with the pros rather than trying to handle the matter yourself.
1. Hire HVAC Professionals
One of the worst feelings as a homeowner is realizing that your HVAC system is down. During the summer, this can mean dealing with sweltering heat for days that could very well leave you sweaty and uncomfortable, especially if you're being forced to stay home and quarantine. During the winter, you may very well end up dealing with frozen pipes and even falling ill due to low temperatures. At the same time, working with HVAC contractors to have the system repaired or replaced can require a sizable lump sum of money at the beginning. Therefore, it's not surprising that a lot of people try to jump the gun by repairing their systems by themselves. Unfortunately, this can be disastrous for a number of different reasons.
The most important reason why you should avoid attempting to repair your HVAC system on your own is, of course, that it can compromise your own safety. HVAC systems work with heavy equipment and are often located in strange, hard-to-reach parts of the home. Therefore, you can very easily get hurt when attempting repairs. Even if you manage to get away from the repairs unscathed, it would be all too easy for you to cause damage unintentionally, sometimes without even realizing it. This is one reason why it's important to check your warranty or home insurance before trying this type of DIY repair. A lot of warranties or home insurance policies have clauses that allow them to become void if the homeowner attempts these types of heavy-duty repairs. Oftentimes, you will be unable to get a new policy with different insurance providers after your original policy is voided. Therefore, while you may count DIY repairs among the most surprising ways to save money, it's actually in working with professional heating repair services that you will ultimately save.
2. Work With Lawyers
It probably seems like the worst time to run into legal troubles. Unfortunately, time stops for no one and life happens. Some people were already dealing with their own legal cases prior to the pandemic, while others find new problems cropping up afterward — some of which could actually be linked to the pandemic itself. If you're dealing with a somewhat minor legal problem, you may be tempted to try to represent yourself in court or work on your own legal documents. You aren't required to work with a lawyer most of time, so it is technically up to you. Of course, lawyers do come with fees; therefore, a lot of people find themselves attempting to be their own legal representation.
Perhaps the most notable type of case in which people try to represent themselves is the personal injury case. These cases are usually lawsuits, triggered by people who are seeking legal compensation for offenses committed against them by the defendant. Typically, these would be handled by a personal injury lawyer. Yet those seeking out surprising ways to save money may try to pursue their cases on their own. A lot of people pursuing personal injury cases are already under some kind of financial distress, due to the fact that they're usually seeking compensation to help pay the bills accrued due to the offending incident. It's important that they win their cases, because either way, they'll probably end up having to pay court fees. While you may save on legal fees if you don't hire a lawyer, should you lose your case the judge may command that you pay the defendant's court fees as well. Ultimately, you could end up losing money on top of the money that you already lost due to the original incident.
It's a better idea to simply work with a lawyer that knows what they're doing from the start. This can not only save you money but also save you time and energy that you would otherwise devote to your case (sometimes with less-than-satisfactory results). Of course, this extends beyond personal injury cases. Divorce cases are also prominent in that, rather than taking them seriously, people treat them as opportunities to explore surprising ways to save money. No matter what kind of legal situation that you're dealing with, you need to think about working with a qualified lawyer.
3. Avoid Self-Treatment For Health Issues
We all run into medical problems from time to time. For a number of reasons, it may be tempting to treat them yourself right now. For one thing, there are a lot of anxieties about going to visit the doctor's or dentist's office at the moment. It may not seem like it's worth it to have your family dentistry needs taken care of right now, due to the concerns about risking exposure to COVID-19. Furthermore, non-emergency medical problems might not seem like something you should spend money on. But of all the surprising ways to save money that you can think of, skipping or putting off medical treatment of any kind is perhaps the worst.
For one thing, putting off your treatment will risk your health in a much bigger way than simply visiting the office or clinic would. Doctor's offices and dental offices are required to take proper precautions in order to prevent the spread of the virus. Most of them are really safer to be in than any other location. Employees will wear masks and gloves while working, and you'll likely be required to wear a mask unless you're being treated for something that requires access to the mouth or nose. While it's understandable for you to feel anxiety, you must take care of your medical needs.
A lot of people, of course, have already made a habit of skipping out of dental care. This may be because of anxieties around the dentist, as well as a feeling that dental care is not as important as general medical care. However, if you neglect your teeth, a minor problem could eventually require emergency dental care. This will, in turn, lead to you spend much more money than you would have had you just taken care of the initial problem immediately.
4. Don't Try To Fix Your Own Car
Most motorists have to deal with annoying automotive repair problems all year round. If you're already in the mindset of putting off your typical auto repair issues, it may be tempting to keep putting them off as the pandemic crisis progresses. After all, you may be using your car less than you once did prior to COVID-19 sweeping the nation. But just because you use your car less frequently doesn't mean that you can simply skip necessary maintenance and repairs. By putting them off, you could be exacerbating the issue. You should treat your car just as you would a human being, staying on top of regular care.
There are actually some surprising ways to save money when having your car properly maintained. A lot of auto repair shops offer loyalty programs that will give you a discount on maintenance, and for that matter, you can talk to several different auto shops for quotes before settling on one. Of course, investing in proper maintenance in the present can prevent higher-cost issues in the future. What's important is that you get all of your repairs done quickly and efficiently.
5. Let The Pros Fix Your Appliances
It can be difficult to tell if your appliances are experiencing issues. We don't know how to tell whether or not something is worn or damaged on an appliance until it simply breaks. At that point, we may be tempted to simply throw it out and start fresh. However, during the pandemic, many people are seeking out surprising ways to save money. These may very well include attempting to repair their own appliances. When you try to handle your own appliance repairs, however, you'll probably cause some kind of damage or an incorrect repair that will become an issue down the road.
The simple way to solve this problem is to work with an appliance repair company. Appliance repair companies are sometimes harder to find than an auto repair shop, for example. But once you find a great appliance repair company to work with, you can probably turn to them to repair all your appliances, and for that matter, offer replacements when need be.
6. Let A Professional Handle Your Taxes
Taxes are incredibly confusing and may throw even the most math-driven mind off course. People were trying to do their taxes by themselves before the pandemic and the crisis has caused many to double down on this tactic as one of the more surprising ways to save money. But think about it this way: if you handle your income tax preparation incorrectly, you may very well end up losing money that you otherwise would have received.
Fortunately, there are companies that offer the services of experts in bookkeeping and tax preparation. They can help you not only file your taxes but also get the most out of your money. Right now, it's important to save as much money as possible. But the right filing can guarantee you more money than you might get if you were attempting to file taxes on your own.
One of the reasons why people are tempted to DIY fixes in the first place is simply because they automatically associate DIY with saving money. However, that is clearly not the case. A lot of people find that working with the pros is really the best way to save. After all, when the person you're working with is the expert in their field, they'll also be the expert on getting the most out of your money. Therefore, one of the most surprising ways to save money is hiring the experts to begin with — and it really works!