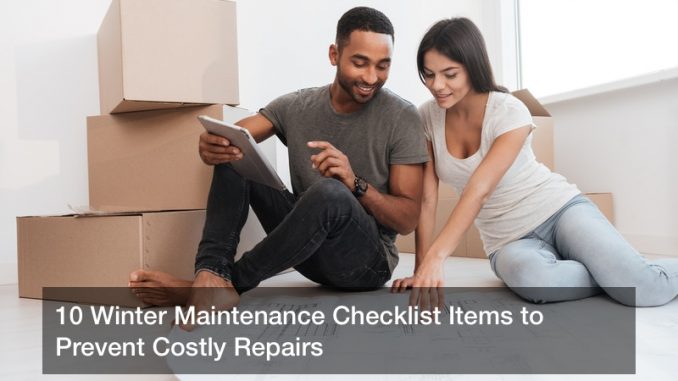 If there's one thing guaranteed in life, it's that the seasons change. Each year, we expect the seasons to come and go, and we prepare for them the best we can. One of the most important seasons to prepare for is winter.
Winter brings cooler temperatures and, in some areas, more extreme weather (such as snow and freezing rain). That's why it's important to properly prepare your home and your yard for the winter season. If you take the time to prepare now, you'll save yourself time, money, and hassle in the winter months. So, how can you prepare your home for winter and the weather it brings? Here are 10 important things to include on your winter maintenance checklist this year.
Check the Heating System
One of the first things on your winter maintenance checklist should be checking your home's heating system. The temperature drops during the winter months, which means you must rely on your heating system to keep your home comfortable and running smoothly. If you don't check your heating system, you risk overlooking preventable issues.
Make sure you check multiple aspects of your heating system. Be sure to clean out the filters and check the vents for anything that could be blocking them. If you have a furnace, make sure you turn it on and see if it's actually warming up your home. If your heating system runs on oil, make sure the oil tank is full and you know when the next oil deliveries are coming to your home. If you have a wood stove or a pellet stove, stock up on the wood and pellets so you don't have to make too many trips to replenish during the winter months.
If you notice your heating system isn't working properly, get it fixed right away. It'll be one less thing for you to worry about while preparing for the winter months. Instead of having to battle a faulty heating system all winter, you can be proactive and fix the issue ahead of time and have a stress-free winter.
Evaluate the Roof
Another important item to include on your winter maintenance checklist is to evaluate your roof. The roof is an essential part of your home's structure that must be taken care of properly. It may become worn and rundown during the winter months due to the colder weather. Ice and snow can build up on the roof and cause it to crack or sustain water damage. The damage could be so severe that a roofing service company may need to come in to do repairs.
To prevent roof damage from happening during the winter months, evaluate it before the winter weather officially hits. Check for leaks, cracks, curled shingles, and signs of water damage both on the roof and in your attic. If you notice damage, call a roofing company to help you repair the damage. You don't want to take any risks while fixing your roof, so it's best to leave it to the experts to fix it. They can also give you advice on how to maintain your roof during the winter months and prevent damage.
Inspect the Foundation
Your home's foundation is critical to its structure. If there's something wrong with it, your whole home could suffer. Inspect the foundation before winter hits and make repairs if needed. One of the biggest things to look out for is cracks in the foundation. Cracks can be a sign that the foundation has settled or shifted in some way, which means the house could be shifting as well. Foundation cracks can also be a sign that there's water damage near the base of your home, so get that checked as well while you're looking for cracks.
Cracks in the foundation could be made worse in the winter. Water can make its way into the cracks, freeze, and make the cracks even larger. This is not good for a home's foundation and if you're planning on listing a home for sale, a cracked foundation could be a deal-breaker for buyers. Inspect the foundation and get it fixed before winter hits to prevent any further damage from happening.
Look at the Plumbing
When it comes to creating your winter maintenance checklist, one key project to include is looking at your home's plumbing. The plumbing system is a vital component of your home's overall function, and it becomes vulnerable to damage when winter comes around. If you have older pipes, they could freeze over and burst under certain circumstances. They could also start to crack and leak, which could cause water damage throughout your home. You can put insulation around the pipes to help prevent freezing and bursting.
You should also check that your toilets, showers, and sinks drain properly before winter hits, as poor drainage could be a sign your plumbing is backed up. It's also important to check your septic system to see if it needs to be serviced before winter hits. The septic system and the plumbing can be tricky to fix in the winter, so taking care of it beforehand is essential.
Check the Smoke Detectors
If you have a fireplace, you may use it frequently during the winter months. Or you may use a wood stove or a pellet stove to heat your home during this time. You may also increase your electric use during the winter months for cooking, lighting, and other home needs. If any of these situations apply to you, something to add to your winter maintenance checklist is checking the smoke detectors in your house.
Smoke detectors play an essential role in your home's safety plan. Smoke detectors will alert you and your family if something is burning in your home. The earlier you're alerted, the sooner you can get out of the home to safety. While you're testing the smoke detectors, you should also check other fixtures like carbon monoxide detectors, garage door remote controls, and electrical outlets. These things can be easy to forget about during the winter months, but testing them is important for your home's overall function.
Clean Out the Basement and Attic
As winter inches closer and closer, consider doing some housekeeping and cleaning out your basement and attic. You may keep a lot of stuff in the attic and basement that is taking up valuable space. Plus, items stored in your basement and attic during the winter months can become damaged if your roof leaks or your basement floods. Once this happens, it could be difficult to get them out of your home, especially during the colder winter months.
Before winter hits, get a dumpster rental and clean out the items you don't need from your basement and attic. Anything you don't want to keep or donate can get thrown away. This will free up space in your home in case you need to suddenly store items during the winter months.
Evaluate Your Windows
As you put together your winter maintenance checklist, you must add evaluating your windows to the list. Windows are an essential part of your home that influences its heating system. If the windows aren't in good shape, you risk wasting heating energy and money throughout the winter.
Check your windows for signs of damage. If you notice there's a draft coming from the windows, there's a lot of condensation forming, the window frames are chipped and worn, or you're having a lot of trouble opening and closing the windows, then it may be time to replace them. It's important to replace them before winter so you don't let the heat from your home escape. If your windows let the warm air out, you could waste a lot of energy and money if you have to keep running the heat in a drafty house.
Repairing your windows may cost you money upfront, but think of the value you'll get from this upgrade. Almost 58% of homeowners report they plan on spending money to improve their homes this year. Repairing your windows will help your home stay warm throughout the winter and add value to your home.
Check the Generator
An essential item to put on your winter maintenance checklist is to check your generator. The power may go out from time to time during the winter, which means your generator will be your backup source of power. Before winter comes around, test your generator to make sure it's working properly.
You can test your generator by turning off your main breaker and seeing if the generator will kick power back on to your house. If the power doesn't come back within a couple of minutes, something may be wrong with the generator. If the generator does kick on, let it run for 10 to 15 minutes before turning the main breaker back on.
Your generator will help you power things such as your heating system, portable fridge freezer, lighting, and other electrical aspects of your home. It's an incredibly important thing to have during the winter. If the power goes out, a generator will help keep your home running from an electrical standpoint. Winter weather can be unpredictable, but having a functioning generator can help you be prepared for unforeseen circumstances.
Winterize Your Outdoor Space
It can be hard to pack up your outdoor space and winterize it for the cooler months to come. However, it's an important item to put on your winter maintenance checklist. Winterizing your outdoor space will preserve your outdoor furniture and decor throughout the cooler winter months.
One way to winterize your outdoor space is to store your patio furniture or any other outdoor furniture you have. You don't want your furniture to sustain water damage from snow or become damaged due to freezing temperatures. Take any chairs, tables, and other pieces of furniture and store them in the shed or garage (if you have space). You can also winterize your outdoor space by salting your outdoor space. When winterizing the tiles for outdoor living space, be sure to put salt down to help reduce the chance of them freezing over and causing a safety concern. You can also salt walkways and stairs to reduce the chance of them freezing over.
If you have a pool, make sure the pool is covered and prepared for months of inactivity. Put any pool toys or pool accessories in a dry storage space where they won't get damaged. Winterizing your outdoor space will reduce the chances of your outdoor accessories becoming damaged as the winter weather rolls in.
Take Care of Your Landscaping
Another important item to include on your winter maintenance checklist is taking care of your landscaping. You've worked hard to keep up with your landscaping throughout the year, and you don't want those efforts to go to waste in the winter months.
Get the appropriate landscaping supplies and take care of your landscaping needs before winter comes. Trim any overgrown tree limbs in your yard, especially if they're close to your home. Freezing temperatures and snowfall could cause overgrown tree limbs to break, and if they break, they could damage your yard and home. You should also cut the lawn, get rid of any falling leaves, and mulch your yard to toughen up your grass. The more you prepare now, the fewer landscaping headaches you'll deal with when spring comes around.
You should also take this time to ensure your residential trash removal service and your recycling service will continue as normal throughout the winter. Trash can tumble into your yard if it isn't stored properly and picked up on time in the winter, so double-check your trash and recycling services schedule before winter hits.
There are a lot of things to do around your home to prepare it for winter. Making a winter maintenance checklist will help you keep track of these projects and help you stay on top of them. It may seem like a lot to take on at once, but if you take everything step by step, you'll check all of the items off your list before you know it. Then, you'll get to enjoy a stress-free winter in your well-prepared home.