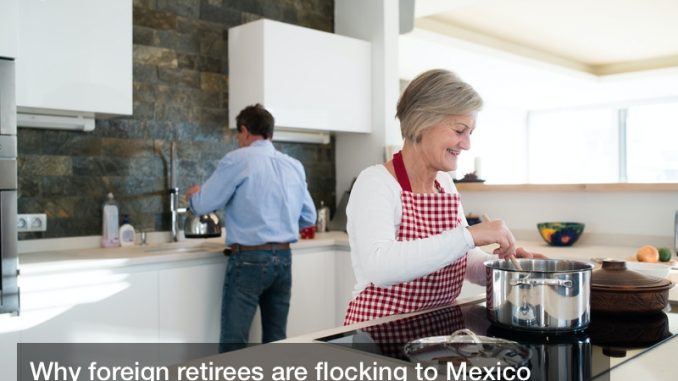 The U.S. State Department estimates that about a million civilian Americans live in Mexico. With so many Americans choosing to retire over the border, there must be some benefit for them to do so.
The video below gives a peek into the reasons why so many foreign retirees from around the world are flocking to Mexico.
Geographic Location
Many U.S. retirees choose Mexico primarily for its geographical locations. Situated directly south of the United States, it is still easily accessible for quick trips to visit friends and family. This closeness also facilitates keeping ties to the U.S., especially if retirees wish to keep a second residence in the U.S.
Climate
In addition to being located in a convenient location, the climate in Mexico is generally attractive to retirees. The weather is mostly mild and temperate. Mexico boasts thousands of miles of beautiful undeveloped beaches and coasts. These beaches make attractive spots for retirement communities.
Cost of Living
The cost of living in Mexico is much lower than in many other parts of the world. For example, in the United States, the average cost of living is $2,500 a month, while in Mexico the average cost of living is much lower, at $1,000 a month. You don't need to be a financial advisor to do the math. Assisted Care Facilities are also much more affordable than their counterparts elsewhere in North America.
Health Care
Overall the healthcare in Mexico is considered good, if not excellent. The medical system in Mexico is affordable and is not driven by profit. The cost of healthcare is generally half or less than it is in the U.S. In addition, prescription drugs made in Mexico also cost much less than their counterparts in the U.S.
Language
Although Mexico is officially a Spanish speaking country, Mexican tourist destinations often have fluent English speakers in the service sector. English is common enough that speaking Spanish may not be necessary for retirees.
Culture
Retirement should be about relaxation and comfort. A reward for a lifetime of hard work. Because there are so many ex-pats living in Mexico, there are communities of worldly ex-pats to bond and socialize with.
Ex-pat retirees also often report that they have become well integrated into their Mexican communities. Retirees express gratitude towards their adopted home. They feel that Mexican culture is interesting, further describing Mexico as having a slower pace and being, in general, a kinder gentler society.