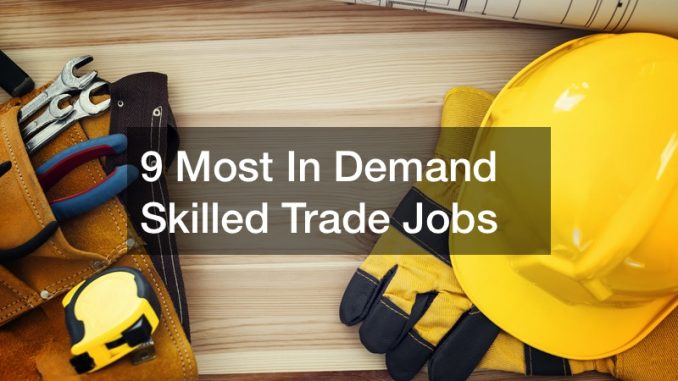 Millions of people across the U.S. are out of work, largely thanks to the coronavirus pandemic and the volatile job market. The good news is not all professions are equally affected. In fact, despite all odds, some jobs are thriving. "The skilled trades don't just hold strong in an economic downturn — but they are among the rare sectors that continue to experience significant growth in an unpredictable job market," business executive Jill Quinn tells Business Wire.
There is a very real need for new workers to enter the field. WINK News describes the situation as "urgent." Nationwide, skilled trade workers, like plumbers, electricians, builders, and carpenters, are in demand right now. The shortage is so severe that customers are waiting weeks, sometimes even months, for their repairs or projects to get underway.
These jobs are also among the highest-paid. With industry experience, professionals make well above the average national salary, and some even earn six figures.
Are you interested in going into a trade? Learn more about the most in demand skilled trade jobs below.
What Are Skilled Trades?
According to Indeed.com, "A skilled trade job is a position pursued by an employee who either receives schooling to learn a specific skill set for their desired position, or they gain these needed skills during on-the-job training." Depending on the trade in question, schooling and training may last anywhere from three months to four years.
Here are some of the most important things to know about pursuing a vocational career:
Trade schools are just a fraction of the cost of traditional education. By comparison, they cost thousands less.
When you study a trade, you have a clear path to employment. Higher education rarely guarantees work. Students may or may not land a job relevant to their degree, and nearly half (41%) are working jobs that do not require a college degree at all, according to Inside Higher Ed (IHE).

By contrast, trade schools set students on a clear path. Their schooling or training provides hands-on experience. That experience is exactly what they need to enter into the field and/or to acquire the appropriate certifications and licensing.
Trade jobs need people. "Seventy-percent of construction companies nationwide are having trouble finding qualified workers," NPR writes. In some states, demand is even higher. In Washington State, for example, 80% are looking for skilled workers.
The most in demand skilled trade jobs pay just as well, or better, than jobs that require Bachelor's degrees. On average, the starting salary for trade jobs is $55,000. Earning potential increases over time, often exponentially. By contrast, the typical college-educated worker will begin their career making roughly $48,400, CNBC and The National Association of Colleges and Employers (NACE) reveals.
The most in demand skilled trade jobs require less schooling, establish a clear path forward, and pay just as well as or better than their counterparts that require a degree.
1. Electrician
Average Salary: $25.93 per hour

Electricity is everywhere, which means the demand for skilled workers who can install, maintain, and repair electrical systems is high. In fact, the demand for new workers is so high, the pool of potential talent is struggling to keep up. "Employment of electricians is projected to grow 10% from 2018 to 2028 — faster than the average for all occupations," Payscale writes. Further, an estimated 10,000 electricians retire per year, while just 7,000 new electricians enter the field.

Electricians work with wiring and circuits in houses and businesses. They are familiar with relevant zoning laws, safety regulations, and the operations of power tools and specialized tools.

There are several perks of being an electrician. Many electricians make their own hours, work is consistent, and every day presents new challenges. Some electricians may have the opportunity to work with the latest technologies. For example, as smart homes become the norm, electricians are among the first professionals to regularly work with these new systems. Likewise, renewable energy and clean energy are rapidly growing markets. Electricians can take advantage of new job opportunities and do their part to help save the environment. For example, certain states require licensed electricians to install solar panels if they are connected to the house's wiring and/or main electricity supply.

2. HVAC Technician

Average Salary: $23.34 per hour

An HVAC Technician will tackle all aspects of AC service. While working as an HVAC tech, you will install new systems, inspect and help maintain existing HVAC systems, and repair them. You will be responsible for emergency repairs, deep cleaning, and swapping out filters as necessary. It is one of the most in demand skilled trade jobs, and there are several advantages to entering the field, including:

Gain practical experience as you learn. While training, HVAC technicians work alongside an experienced technician. They gain practical, hands-on experience, and they get paid while learning.
Job security, an excellent outlook, and flexibility. Once again, HVAC technicians are one of the most in demand skilled trade jobs. The profession will grow by as much as 15% by 2026, according to the U.S. Bureau of Labor Statistics (BLS). That means those who enter the field can be confident they will find work and reasonably expect steady work during their career. While workers may start out at a lower rate, salaries easily climb as high as $73,000 or more with experience.

Plus, while some careers may require you to relocate or live in a particular city, that is not the case when you are working as an HVAC technician. The demand to install, maintain, and repair heating, ventilation, and air conditioning systems exist everywhere, and you can comfortably live wherever you would like.
Make a difference. HVAC technicians serve a very practical purpose. Their services can help filter allergens out of the air, save their customers money, and make their customers more comfortable. Maintaining and repairing systems also ensures they are running as efficiently as possible and reduces their environmental impact.

3. Carpenter
Average Salary: $21.46 per hour

Carpenters are directly involved in the construction of houses, buildings, and roadways. In addition to major construction, they also tackle smaller projects, like home remodeling and commercial remodeling. Much of their work takes place outdoors and demands physical dexterity. Carpenters stay out of the office and away from the 9 to 5 grind. They have a variety of skills, and they have a healthy earnings potential.

The most in demand skilled trade jobs are also some of the most desirable ones. Carpenters make their own hours, stay out of the office, and earn high wages.

4. Licensed Practical Nurse

Average Salary: $23.81 per hour

Licensed practical nurses (LPNs) may be one of the most in demand skilled trade jobs right now — if not the most in demand trade job. Health care agencies across the nation are looking for LPNs to help treat patients with COVID-19 and administer the coronavirus vaccine. Plus, because many nurses and doctors are devoting their time to the virus, LPNs are needed to care for patients as they come in for routine screenings, follow-up appointments, and more.

In some states, getting qualified as an LPN takes just 12 months. That is markedly faster than other paths to the medical field. While some LPNs love what they do and choose to retain their position over the years, others use working as an LPN as an opportunity to study and train to become a registered nurse.

5. Diesel Technician
Average Salary: $25.22 per hour

What does a diesel technician do? "Diesel service technicians and mechanics inspect, repair, and overhaul buses, trucks, or any vehicle with a diesel engine," according to the BLS. That may include anything from repairing a bus engine to correcting truck and trailer alignments.

Diesel technicians must be analytical, have good math skills, and work well with people. Being safety-minded doesn't hurt, as day-to-day employment as a diesel mechanic can present a number of hazards. The job outlook for diesel technicians is good, and it is projected to remain consistent until at least 2029, making it one of the most in demand skilled trade jobs.

6. Legal Assistant

Average salary: $15.67 per hour

Legal assistants take on a lot of responsibility. The average legal assistant will perform legal research, organize papers, draft legal documentation, leases, contracts, and pleadings, answer clients' questions, and schedule meetings and court appearances. In other words, they will do whatever they can do (legally) to make a lawyer's job easier. They may work for just one lawyer, partners, or a team of lawyers.

Legal assistants have the opportunity to work directly with clients, help others, and get the hands-on experience they will need if they continue to pursue a law career. The pay rate for legal assistants is continually growing, and legal assistants can earn a substantial amount from periodic bonuses.

7. Heavy Equipment Operator
Average Salary: $20.38 per hour

Workers in this field are well-compensated for their time, and with good reason. Heavy equipment operators are responsible for handling bulldozers, cranes, Bobcats, forklifts, and more. Daily responsibilities may include clearing and leveling ground prior to construction, plowing roads, or undertaking forklift repair. A heavy equipment operator may choose to specialize. There are three key areas. A worker may specialize in the operation of construction equipment, like a crane or Bobcat, the operation of paving and surface equipment, like a plow, or the operation of pile-drivers.

As with most in demand skilled trade jobs, heavy equipment operators benefit from a healthy job outlook and high earnings potential.

8. Plumber

Average Salary: $25.28 per hour

We have all been there. No matter how well you maintain your plumbing, you will likely need the assistance of a quality plumber at some point. Plumbers repair toilets, sinks, showers, dishwashers, washers, and any other malfunctioning appliance. Homeowners and business owners may call them in to fix leaks, cracks, fissures, corrosion, and problems with pipes, water lines, and plumbing itself. "Not only will they fix plumbing issues, but they will provide regular checks and inspections to ensure appliances are remaining up to code," Indeed.com continues.

Plumbers learn about local and state regulations to adhere to appropriate building codes and zoning laws, they have the ability to help pick up the pieces in emergencies, like major water leaks, and they are often trained to fix plumbing in very old houses and building as well as plumbing in modern structures.

Plumbers are — and likely will always be — one of the most in demand skilled trade jobs. Homeowners and building owners rely on them for maintenance, inspections, and major repairs.

9. Home Inspector

Another one of the most in demand skilled trade jobs comes into play during the sale of just about every home. Most loan companies do not mandate home inspections. However, inspections often benefit buyers, and prospective homeowners are wise to schedule one. A home inspector will assess the condition of a house from top to bottom. He or she will point out major problems and potential hazards, like buckling roofing or faulty wiring, as well as much smaller problems, like items that may require quick or cosmetic fixes (peeling paint, missing door stoppers, etc.).

Those who work as home inspectors provide essential services, help their customers, travel, and have the potential to earn more than comfortable wages.

Why take another look at the most in demand skilled trade jobs? Skilled trade jobs, particularly the most in demand skilled trade jobs, offer a faster route to good money. They save workers from accruing thousands in college debt, offer great growth potential, and, often, even give workers the freedom to start their own business, be their own boss, and make their own hours.