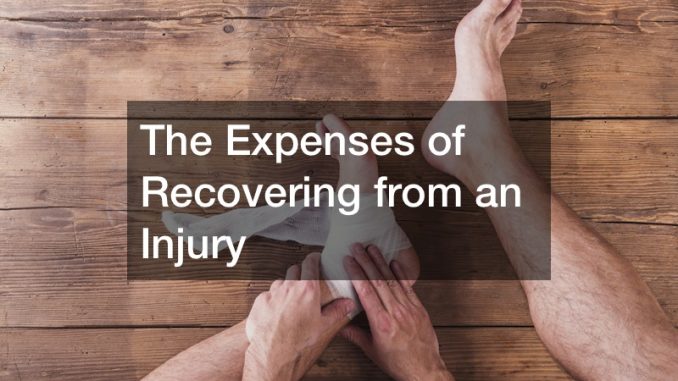 Accidents happen and wreak havoc on people's lives with no warning. If you experience a car injury or any other type of incident, you will have various expenses to pay for. The cost of recovery can be taxing, especially if your injury causes you to be unable to perform your job. The following are some of the most common injuries that occur and some estimates on how much it will cost you to recover from them.
Cracked or Broken Teeth
Tooth problems are some of the most common issues that occur when individuals get into accidents. They often happen because of the impact the individuals have with a steering wheel in a car accident. When this happens, restorative dentistry is often necessary.
There are several solutions that one can choose when trying to repair teeth that have been damaged or broken. Crowns sometimes need to be on top of teeth to restore cracks. Bridges are alternative solutions. Dental implants are another restorative device one might get for his or her teeth after a car accident.
Dental bridges can be as low as $500 in cost or as much as $2,000. Dental implants are typically more expensive, but the average cost is $5,000 for all parts involved. Porcelain crowns can be as little as $800 and as much as $2,500. The price for this cosmetic treatment varies according to the location and the individual dental office. Insurance policies can help shoulder some of the cost, but most of them will only cover about 50% of the procedure.
Legal Representation
Most people involved in an accident will want to hire some type of lawyer when they suffer great injuries. A personal injury lawyer is a type of legal specialist who helps injured parties get the funds they need for medical recovery, wage replacement, and general life.
A personal injury lawyer usually handles cases on a contingency basis. That means he or she is willing to wait for payment until the plaintiff wins the case. Lawyers of this type charge between 25 and 40% of the plaintiff's settlement funds, and they usually take cases that seem promising. There are two types of payments one can receive from a personal injury settlement. One type of payment is called a contingency payment. These funds are used to cover medical expenses and such. Then there's something else called punitive damages. Punitive damages are additional money a plaintiff can receive if the incident involved extreme neglect. Accidents usually involve extreme neglect because sometimes people disregard traffic signals or traffic laws. Some even choose to drink alcohol before they operate a vehicle. That falls under the neglectful umbrella because drinking affects one's judgement adversely.
Some settlements can add up to a figure that goes well into hundreds and thousands of dollars. Many such attorneys offer a free consultation. Thus, you have nothing to lose by contacting one to talk to them. You might walk out of the meeting with a lawyer who is willing to represent you and a high chance of getting some compensation you deserve.
Care Products
You will also need quite a few medical supplies for recovery and habilitation. The extent of your injuries will determine how much you need to spend to get better. These are some examples of the medical supplies you might need for your rehabilitation and how much they will cost you:
Crutches
You may need crutches if you break or injure your leg. These devices will help you to get around if you want to walk. Crutches are typically created from wood and aluminium. The least expensive type might cost you about $50, while the highest quality crutches might have you spending about $200.
Hospital Beds
Maybe you will need a hospital bed if your healing will take several months, but you don't want to stay in the hospital. Hospital beds can be quite expensive, especially if they have a lot of special features. The average hospital bed costs between $500 and $10,000. The price you pay will depend on whether the item is new or used and who the seller is. You might get lucky and only have to spend a few hundred dollars if the seller needs cash quickly and doesn't need the bed anymore.
Wheelchairs
Wheelchairs are not as costly as they used to be. That's good for you because your expense might not be very high if your situation calls for a wheelchair. A wheelchair might only cost you $500 if you want to stick with a basic feature suite. However, some wheelchairs are so sophisticated that they can end up costing you an amount in the neighborhood of $10,000.
Neck Braces
A neck brace can offer you support if you have whiplash or a similar issue. The price of the neck brace you buy depends on the materials it's made of and any feature it might have. You can purchase a cheap one for a few hundred dollars if you don't intend to use it for the long term. Alternatively, you can put a bit more of an investment into it if doing so will help someone in your family.
Kidney Machines
You might have to use a kidney machine to recover if you suffer damage from an accident. Kidney machines can be quite expensive and end up costing a price that's in the neighborhood of $3,000. That price is on the lower end, and you might end up paying more than $45,000 for a machine that's on the higher end of the spectrum.
There are many more items you might need to purchase if you want to recover comfortably. The previous list is not an extensive one, but it will give you an idea of the amount of money you will need to put forth for recovery and rehabilitation.
Post-Surgery Supplies
You will have a large medical bill if you have to have any surgical procedure performed because of your accident. Typical surgical procedures cost several thousand dollars, and any day you have to spend the night at a hospital will be costly as well. A variety of surgical procedures may be necessary after experiencing an accident. These are some common injuries and how much a surgical procedure may cost:
ACL Tear
Surgery for the ACL ligament can cost anywhere from $5,000 to $20,000, but it usually falls somewhere in the price range of $10,000.
Shoulder Dislocation
Dislocated shoulders can happen during accidents. The price range for a medical procedure to care for a dislocated shoulder can cost about $9,000 for the surgical procedure and any anesthetic that might be administered.
Knee Injuries
Knee injuries can cost more than $11,000 for the victim. They often happen at the moment of impact in a vehicular accident.
Back Injuries
Back injuries can have multiple expenses for surgical processes, physical therapy, and other care aspects. The typical range for back surgery is in the area of $6,000 to $8,000. However, a complex surgical procedure can easily cost up to $30,000.
No matter what type of surgical procedure you get, you will most likely need medical supplies for your healing process. Those medical supplies may include gauze pads, band-aids, disinfectants, etc.
Tooth Care
Sometimes, non-cosmetic tooth issues arise because of accidents and the time it takes for recovery and habilitation. For example, periodontitis and other conditions can develop in the tooth when a person is healing from a traumatic bodily experience and is unable to get the proper nutrients. The early stage of the disease can cause issues with the gums, but it can develop into severe bone problems.
A periodontist can assist someone with this type of problem. This dentist specializes in treating issues with the gums and bones. Treatment may include doing deep gum cleaning, issuing special solutions, or undergoing other processes. A periodontist usually has a $300 per hour charge for a consultation. Treatment can be anywhere from $500 to over $2,000, depending on what needs to be done.
Having dental insurance is a good way to shoulder some of the costs. However, post-incident bills can accumulate rather quickly, making it difficult for you to recover after an accident.
Bone and Joint Care
Oftentimes, rehabilitation and recovery include care from an orthopedic specialist. This type of provider finds solutions for joint and bone problems someone might suffer after an accident. Each visit to an orthopedic clinic might be between $150 to $300. Any treatment that might arise will be an additional cost. Then you will have to pay for medication. Prescriptions can be very cheap, or they can cost you hundreds or thousands of dollars.
Mental Health Therapy
Mental health therapy is another element that involves rehabilitation and recovery. A car accident is highly traumatic, and people who suffer from such incidents are likely to develop post-traumatic stress disorder or a similar condition afterward. If you are experiencing nightmares, troublesome thoughts, or worries, you may need to visit a counselor, therapist, or another type of provider. A visit to this type of specialist may vary according to the location and the provider's education and credentials. You may have to pay this provider $100 to $250 an hour for such services.
Some providers may be willing to accept installments, but you might need a lot of care to recover after such a traumatizing accident. Your total treatment may end up costing you thousands of dollars if you don't have insurance that covers such things. Seeing a personal injury lawyer could help with this situation, as personal injury attorneys work hard to get people the compensation they deserve. You might want to schedule an appointment with one and see if he or she can assist you if you believe neglect caused your accident. Search the web for reputable attorneys and schedule a consultation as quickly as possible.
Supplies
You also might need to acquire some additional supplies for rehabilitation and recovery. For example, you may need first responder bags and emergency kits to take care of yourself in a tricky situation. First responder bags usually cost somewhere in the realm of $50 – $100.
Hospital Stays
Hospital stays can be horrendously expensive. One night of staying at a hospital can cost $4,000 but can be as much as $15,000. There may also be miscellaneous taxes involved with some of your treatment or care products.
Home Healthcare
You might also need home healthcare for your rehabilitation and recovery. You may need someone to come to your home and help you with performing daily tasks and moving out and about your home. The cost of home healthcare ranges. It could be as little as $20-$30 an hour to as much as $100 an hour.That expense can be a burden when recovering from the repercussions of an accident. It's possible that you might find someone with less expensive prices than other providers, but it's still a lot of cost to shoulder.
Now you know some of the expenses you might have to deal with during rehabilitation and recovery. The good part about it is that you can contact a personal injury attorney to see if you can get help for the expenses and lost wages. This type of attorney can assist you if your accident had anything to do with someone else's neglect.
Such specialists are in business to get accident victims what they deserve. Thus, you can reach out and schedule a consultation with one to see how they might be able to assist you. If you get representation, you will be able to show the attorney all the bills mentioned above, and he or she will try to get you some reimbursement for all of those things and more. Things will get better for you one day, and the specialists you can contact can make it happen sooner. Many personal injury specialists are compassionate people who sincerely want to see the little people win. Don't hesitate to call and schedule a consultation, especially if it's free. You might find out you're eligible for something you didn't think was possible.