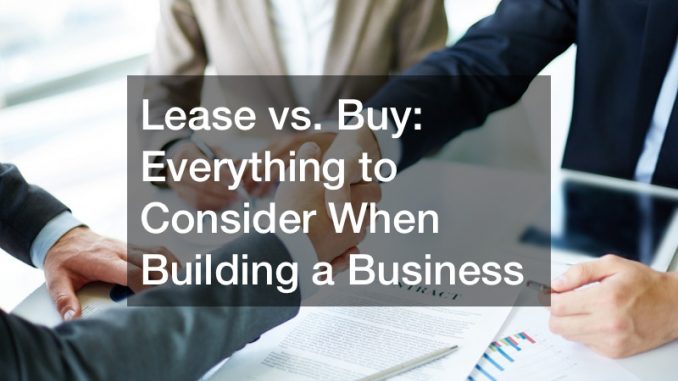 Leasing and buying are two common decisions for business people. Buying is a permanent option and offers more freedom, while leasing is cheaper in the short run and offers less freedom since you don't own the property. Consider the below factors when building a business.
Exploring Opportunities
Business opportunities allow you to discover new ideas and innovations so that you can choose what you should implement in your business. When building a business, exploring opportunities is a main factor to consider.
In leasing, a landlord gives you the right to stay on their property for a predetermined period. For instance, you can lease for six months, one year, or even more. Leasing comes with an agreement you and the landlord must sign to show that you will adhere to your landlord's rules.
Would you wish to explore many opportunities? If yes, leasing would be ideal because you decide to lease different properties within a period to know the most profitable location.
Commercial real estate leasing is more versatile, and you can even decide to lease more than one property. Consider this option if your business is still developing and you need to be more flexible in your location to meet the needs of different target markets.
Alternatively, you can consider buying to explore opportunities in one area only. If you have capital, find good commercial land for sale and work with seasoned constructors to set up your business.
Enhancing Workspace
The decision to enhance your workplace is another key factor to consider when choosing between lease for less or buying an office space.
While both options are great for improving the office space, you may need to buy to make the more advanced office changes. This is because some landlords may limit the changes you should make to the property.
Here are the main types of office enhancement ideas you may choose for your business:
Lighting Options
Your business can benefit from natural and artificial light options like bulbs. If you enjoy more natural lights, lease a building with large windows which allow light inside.
Similarly, you can build and customize the windows to your liking. If you would like to customize lighting, weigh between building or leasing to make an informed decision.
Flooring
Flooring is another vital factor to consider when deciding to lease for less or buy. If leasing is your only option, ask your landlord for permission and hire a reliable commercial flooring service for the work. Nevertheless, you can still choose to build if you would like to customize your business floor fully.
Noise Reduction
Noise can be disturbing in a business setup, and you may choose to set your business in a quiet area if your work demands utmost silence. If you lease for less in a busy town, consider adding noise insulators to retain calmness in your office. Similarly, you can build your own office space in a quiet area and avoid the noise hassle.
Determine all the workspace enhancements you would like to make in your business and check if they will best apply to your property or a leased one.
Relocating
Relocation is another vital factor to consider when you plan to change your existing business's location. Since your current customers are already used to the current location, you will need to ensure your new location is still easy to access and the transition is smooth.
Here are helpful tips to help you in the relocation process when planning to build your business.
Set a Budget
How much would you like to spend on the relocation? The cost of moving your business will depend on the distance and the charges of your moving company. If you are on a budget, get price quotes from different moving companies and choose the most affordable for your finances.
Negotiate
You can lease for less or generally spend less on the relocation process when you negotiate. Most moving firms are open for negotiation, and others offer great discounts that you can get for your business if you have excellent negotiation skills.
Seek Professional Help
Don't hesitate to seek professional help if you experience challenges in the moving process. An expert can guide you on how you will cut costs in the moving process or even advise you on whether to buy or lease your business property.
Safety
Safety is another vital factor when building a business. Customers need a safe area they can easily access without any safety concerns. Your employees, too, need a safe working environment, considering that safety concerns have been on the rise in recent years.
Therefore, you should remember safety even as you plan to buy or lease for less. Check out these effective ideas you can implement to make your new office property safer.
Install an Alarm System
Commercial alarms are many nowadays, and they all help to detect burglary and workplace threats like smoke and fire. Find the most suitable and affordable alarm system to make your new business more secure.
Add Security Systems
Security systems like cameras help record and track any criminal activities which might be taking place in your business space. Ensure your business building has conveniently located cameras and systems to improve the safety of your commercial area.
Use Secure Doors and Windows
The types of doors and windows you install in your business significantly impact the overall security. If safety is a key concern in your business, buy modern doors with smart lock systems. These doors may be costly, but they have long-term benefits that your business needs.
Hire Qualified Staff
Invest in experienced security staff to back up your tech security equipment. The people you hire should be trustworthy, so you should only acquire them from reputable security firms.
Lastly, ensure the commercial property you buy or lease for less is in a safe neighborhood. Do some research on the security threats in the area before relocating.
Climate Control
A healthy office environment improves work productivity. As such, you should encourage good climate control in your office to ensure every employee is comfortable in the office and energized to perform better.
Here are practical climate control tips when building a business.
Heating and Air Conditioning
Your office should always have an optimum temperature ideal for your workers. You should have an effective air conditioning system to cool your employees when it's hot. Similarly, you should invest in heating systems to warm up when it's extremely hot. Liaise with a reliable commercial HVAC company to cater to heating and air conditioning needs.
Improve Lighting
Lighting is another simple yet effective climate control strategy you can observe when building your business. You can do so by allowing more natural light and investing in high-quality LED lights that provide better lighting.
Encourage Waste Management and Recycling
Waste is another issue that can affect the work environment when poorly managed. Educate your employees on excellent waste management and invest in high-quality equipment for waste removal.
Similarly, you should encourage recycling to reduce carbon print in your business and ensure everyone has a healthy office life.
Plan Finances
Finances are another vital factor to consider when building a business property. Where will you get the money, and how effectively will you use it? As a business person, your main goal should be to utilize your finances the best way without compromising on the quality of the outcome.
How do you plan for finances when you need to buy or lease for less? The first and most important strategy is to have a realistic budget. Determine how much money you intend to spend and start looking for ways to get it in case you don't have it.
For the best results with your building project, work with experienced professionals in financial planning and utilization of resources. Most financial planners may even connect you to the best material suppliers in your state and help you save money on your business project.
If you don't have enough money for the project from your cash flows, here are some amazing sources you may consider to generate money to build or lease your office space.
SBA Loans
They are ideal for small business owners in the United States who have operated for at least two years. They are offered by private lenders but backed by the government.
Construction Business Loans
Both banks and credit unions offer construction loans to eligible businesses. However, you should have a strong credit history and some assets which can be used as collateral for the loan.
Angel Investors
Some wealthy investors are always ready to help business owners get what they want in exchange for a stake in their business. You can find them in social media and online directories like AngelList, and you should have a great business plan for consideration.
Equipment Finance
Equipment financing is used to purchase construction materials, so you can consider this option if you plan to build a large business property. You can get this loan from banks, credit unions, and even union lenders, provided you have an excellent credit score.
When you finally get the source of funds for your construction, plan it well and track the funds' utilization for accountability.
Fresh Branding
Your brand is your business image, and it differentiates your products from those of your competitors. When building your business, you must invest in fresh branding to make your products/services easily recognizable to your customers.
Here are vital branding steps to help you improve the branding of your business:
Identify Your Target Market
Understand your target market first so that you can know what type of designs they like and work towards achieving that. Find out what your competitors offer, and talk to some of your target audience to understand them better.
Choose a Logo and Slogan
A logo is a visual presentation of your business and should match your business aspects. Its colors, appearance, and slogan should make customers easily remember your business. When creating your business logo or brand, it's important to work with sign companies for help in the design and execution of your designs.
Protect Your Building
Protection is another vital factor when building your business. The physical appearance of the business property says much about you, so you should ensure it's always appealing for the sake of your business reputation. Here are some practical tips for protecting your business, whether you buy or lease for less.
Add Roof Coating
A roof not only improves your property's look but also protects it. Partner with a trusted local commercial roof coatings company for the best advice on roof coating and help in the installation process. A high-quality roof coating will make your business more attractive and appealing to your customers.
Secure Your Property
A safe business premise should be well-fenced and have a strong gate and garage. Ensure your business property is well secured to improve the safety of everyone working there or coming to your business for business purposes.
You can protect your business, whether you buy the premise, build it or lease for less. Understand what you want and work with experienced service providers for the best results.
Transform Workspace
The last effective step for building your business is to transform your business when you have already decided to buy or lease for less.
After branding and following all the above-discussed factors, you will now have a place you can call your office in your desired location. It's up to you now to transform it into a warm, healthy, and comfortable working area that boosts productivity.
Invest in Furniture and Office Uniform
Would you like an office culture whereby employees wear uniforms for easy recognition? If so, you can transform your workplace by investing in apparel and other facilities like furniture that employees need to improve productivity and make the best use of their time in your office.
Paint It
Painting is one of the conventional yet effective methods of transforming your workspace. When you paint, you hide all the structural flaws in the walls and also give the property an entirely new look that improves your customer's perception of you.
Find the best paint colors to add to your office, and work with experienced commercial painting contractors for the best results. The ideal colors will enhance your business look and also transform your workspace.
Improve the Office Layout
An office workout can enhance productivity or cause more stress and anxiety. Arrange your furniture in the most effective layout that would work well for the nature of your business. If possible, ensure a free space where your employees can unwind when not working.
Start Building Your Business Today!
Setting up a business is not easy, but it is satisfying when you do it correctly. Buying or leasing for less depends entirely on your financial capability and preferences. Hopefully, the above tips will guide you into to effectively building and growing your business.